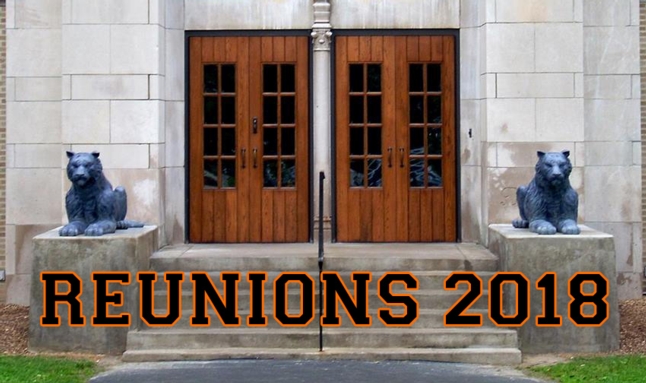 It is never too early to start planning...
Please contact the Alumni Office with any info you have on reunions for 2018 to post here on the alumni reunion page. We can also provide you with a contact list for your class and help promote on our social media accounts.
(716) 362-8259 - alumni@amherstschools.org
___________
Classes with Reunions in 2018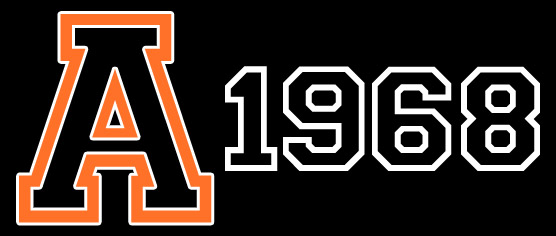 The ACHS Class of 1968 Reunion Committee is pleased to announce the dates for our 50th anniversary class reunion weekend. The weekend will be Friday, Saturday and Sunday September 14-15-16, 2018.The reunion committee has been meeting since mid 2017and is working on the finalization of events to take place all three days of the weekend.
The Saturday night dinner (9/15) will once again be held at the Buffalo Yacht Club at the foot of Porter Avenue on the Niagara River, right near the Peace Bridge. This was the site of our 2013 45th reunion main event and was clearly the best choice that was offered to the committee (in addition to the positive feedback from attendees from 2013 on our outreach – we thank you!).
We are exploring multiple options for the Friday night of the weekend, in addition to the traditional meet-and-greet at Brunner's Tavern that has been the kick-off for previous reunions. In addition, the committee will review options for a casual Sunday brunch, possibly in the Canalside area in the downtown Buffalo area.
Because of the move from July to September, ACHS will be in session on the Friday of our reunion weekend. We plan to have a tour of the high school on Saturday morning most likely from 9-11 AM. Once the logistics of the tour can be finalized we will post this on the ACAF web site. The tours are conducted normally by board members of the Amherst Central Alumni Foundation and I can assure you that they are very competent in being able to give an outstanding tour for those who wish to participate.
The committee has already done extensive research regarding hotel lodging for out of town class members, and a very comprehensive hotel listing with room blocks and registration links is available to anyone wishing to stay at a hotel for the reunion weekend. You can contact Clay Pasternack at achscp1968@gmail.com. There is the possibility for that weekend to be home football games for the Buffalo Bills and/or University of Buffalo, which made it necessary for us to secure the lodging well in advance of the reunion weekend.
Further details regarding our reunion will be posted here on the ACAF website, along with our class group on Facebook, as well as the email blasts that will be sent monthly beginning in January, 2018
Here is the current list of our reunion committee, who have been meeting casually again for about 18 months and are now ready to plan the big 5-0:
Grant Golden Don Houck Rich Morin
Neal (Tad) O'Rourk Clay Pasternack Jeff Rausch
Debbie Snow Louttit Craig Speers Laurie Steinmetz
We all look forward to hearing from you and especially seeing you next September!
Clay Pasternack
ACHS Class of 1968 Class Director
440-655-6180
---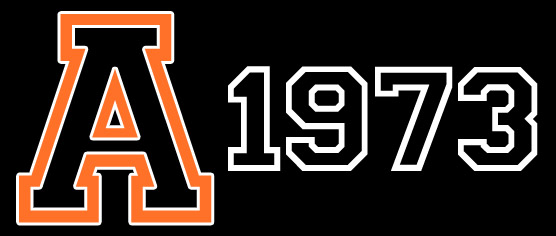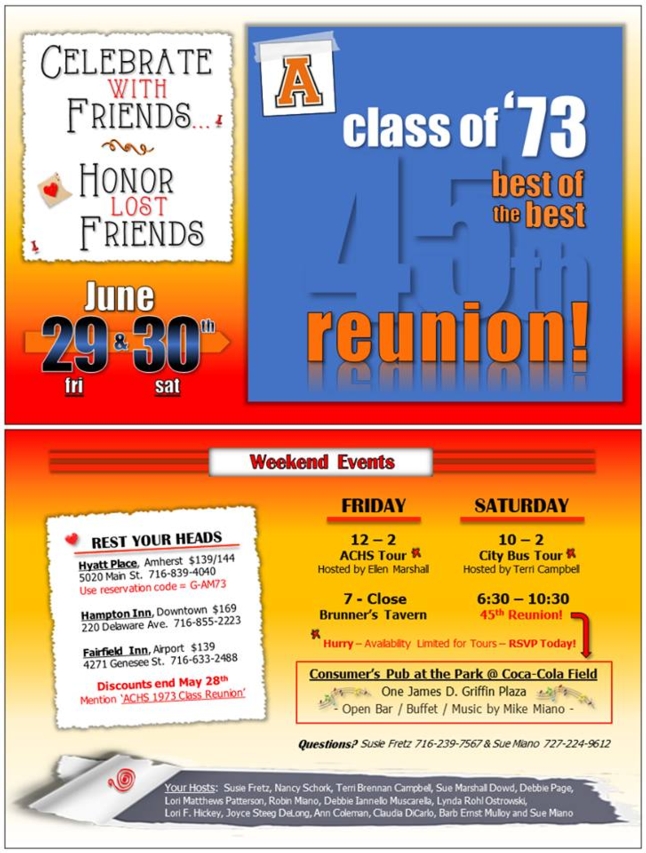 ---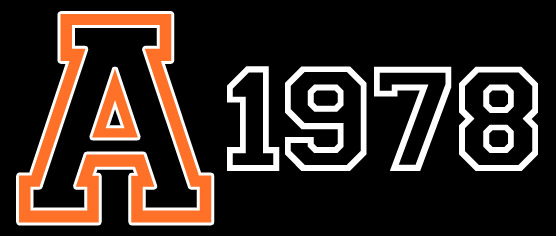 The Class of 1978 is in the planning stages for a reunion August 3-5, 2018. Stay tuned for more details.
The reunion committee is comprised of: Mark Ables, Sandy Levy, Scott Cassetty, Kathy Hens-Zips, Carolyn Doster, SueEllis and Amy Papia
Contact email: bloomlisa28@gmail.com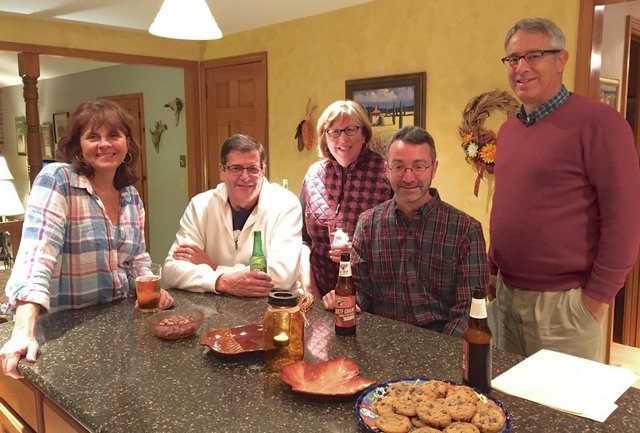 ---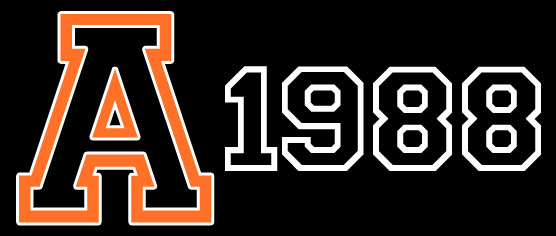 Come and share food, drinks, stories, and laughter with your fellow classmates.
Where:
Buffalo RiverWorks - 359 Ganson St, Buffalo, NY 14203
When:
Saturday, July 7, 2018 6:00pm until 11:00pm
Open bar from 6:00pm until 9:00pm (cash bar afterwards)
Food from 7:00pm until 8:30pm

Food:
A cornucopia of the following Buffalo favorites:
• Buffalo style chicken wings
• Boneless chicken wings
• Mini roast beef on weck
• Vegetable AND cheese & pepperoni pizzas
• Loaded pub fries • Celery, carrots, & creamy Stilton.
LOCATION
Buffalo RiverWorks (359 Ganson St, Buffalo, NY 14203)
Contact: Contact Kyle Obear - Email: kjobear@gmail.com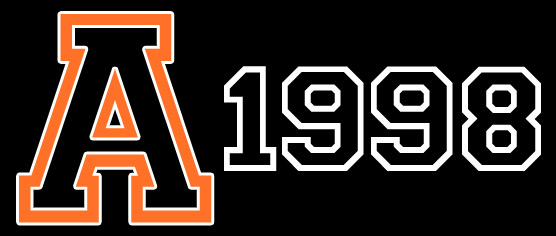 The Class of 1998 is in the beginning stages of hosting a reunion on Columbus Day Weekend in 2018. More details coming.
Contact: amherst.reunion.1998@gmail.com
---