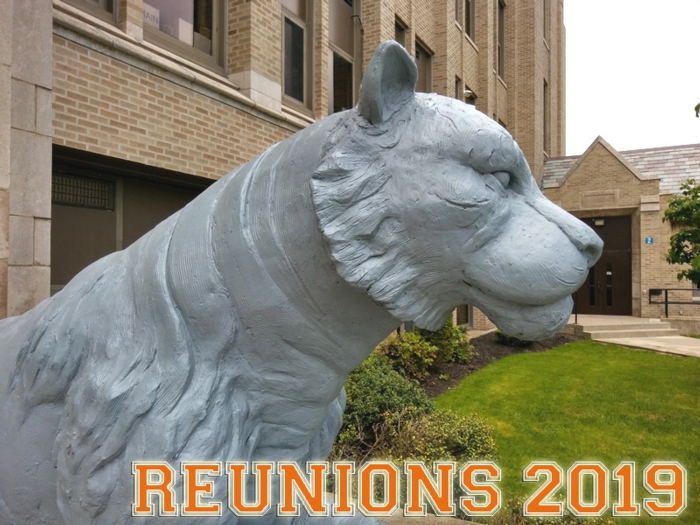 It is never too early to start planning.
Please contact the Alumni Office with any info you have on reunions for 2019 to post here on the alumni reunion page. We can also provide you with a contact list for your class, print mailing labels and help promote on our social media accounts.
(716) 362-8259 - alumni@amherstschools.org
___________
Classes with Reunions in 2019

Our 55th reunion (how did that happen?!) will be held on July 12 and 13, 2019. We hope that you will join classmates for the opportunity to catch up, reminisce, and otherwise just have a good time. A significant number of people already have expressed an intent to attend.
Events planned are below, and there will be ample time for you to do whatever else you may wish, as we have endeavored to keep the schedule simple.
1.Friday, July 12, 2019, 5:00 p.m. to 10:00 p.m., Eagle House, Williamsville. Cocktail reception and buffet dinner. The cost for the buffet dinner will be $24.00 per person, and there will be a cash bar.
2.Saturday, July 13, 2019, 2:00 p.m. to ??. Picnic event at Janet Berner Beurskens' summer place on the lake in Angola (directions will be provided to attendees in advance). There will be a picnic style meal, with beer, wine and soft drinks. Cost will be $15.00 per person.
3.Choral reunion, Friday, July 12, 2019 - noon to 3pm – Amherst Community Church Choir Room – no charge.
19 have already expressed interest - Julie Piret Spina, Chriss Patterson Nieman, Letha Forbes Flynn, Nancy Stettenbenz Corp, Russell Hurd, Linda Beelke Hurd, John Roberts, Marilyn Obermeyer, Bob Geyer, Toni Long, Janet Berner Beurskens, Toni Rifenburg Walker, Robbie Schuck, Neal Hamlin, Sara Straw Winship, John Springsteed, Penny Larkin Schmitt, John Kirwan and Rich Stancampiano. We did this in 2006 and in 2014 and it was a gas.
We hope you can join us – Marilyn Obermeyer and John Roberts
Signing up is simple
Call Kathy Sabbio at 978-774-7123 (ext. 5857), give her the information and pay by credit card.
If you have any questions, call Kathy Sabbio or Bob Holloway at 978-774-7123. Please sign up as soon as you can in order to enable us to make appropriate commitments.
THANKS. The Ad Hoc Planning Committee (Janet Berner Beurskens, Sue Rodems DiVita, Diane "Ditty" McClure, Bob Holloway)
---

50th Class Reunion - Saturday Sept.14, 2019~6PM
There's still time to send in your paid reservation…
DEADLINE IS SEPT. 3rd!!
We have planned a full weekend of activities:
Friday 9/13

5PM Tour Amherst High School (meet @4:45 at flagpole)
7 PM Meet up with classmates at Loughrans~4543 Main St, Snyder~cash bar

Saturday 9/14

11AM Free Walking Tour of Snyder (meet @10:45 at flagpole) given by Amherst Grad, Class of '87 and author Julianna Fiddle-Woite
6PM 50th Reunion Celebration at Buffalo Yacht Club - 1 Porter Ave. Buffalo, 14201

Sunday 9/15

Noon at Buffalo RiverWorks 359 Ganson St. Buffalo, 14203 - Come to our Buffalo Waterfront and watch the Bills Squish the Fish~cash bar
To assist with your travel & reservations, attached is a WNY listing of a variety of hotels. Note: Very popular new spots, including the Hotel Henry & Reikart House (former Lord Amherst), fill up quickly. Click to view hotels-->
Your reunion committee is very excited about this upcoming event, and hope that most of you will be joining us! We are looking forward to seeing everyone and catching up on what has been going on with you over the last 5 (or more) years.
If you haven't already registered for reunion details & update e-mails through the Amherst Central Alumni Foundation database, here is the link:
http://www.amherstalumni.org/first-time.cfm
You can download a copy of our 50th Registration flyer by clicking here--->
If you want to see who else is coming, click here--->
Amherst Class of 1969 50th Reunion Committee: Tina Vispi Robertson, Lynne Rosen Frank, Sandy Cumming & Ellen Marshall
---

Hard to believe it's been 45 years! We decided to keep it simple for this reunion – we'll save our energy for the 50thin 2024! Hope to see you in July!
THURSDAY, JULY 18 – 7 PM
Old Home Days – Island Park – Meet outside the beer tent – look for the orange and black balloons.
FRIDAY, JULY 19 – 1 PM
Golf Tournament @ Grover Cleveland Golf Course
Contact Tom Brunner to register: tdbrunner524@aol.com
FRIDAY, JULY 19 – 7:30 PM
Local Grille (Wehrle Golf Dome) – 8230 Wehrle Drive, Williamsville
Cash Bar & Finger Food
The rest of the weekend is free to do some Buffalo things on your own: Riverworks, Canalside, Remodeled Brunners! Etc.
Donations are appreciated to cover postage, printing and finger food for Friday night. Make checks out to:
ACHS Class of 74 Reunion
Send to: Lori Rohloff, 479 Evergreen Dr., Tonawanda NY 14150
IMPORTANT: Make sure your contact information is correct on the Amherst Alumni Foundation's website:www.amherstalumni.org
We will only be doing one mailing (postcard reminder) in April so watch for that.
Class of '74 Facebook page link
https://www.facebook.com/AmherstHighSchoolClassof1974/
Any questions? Your committee:
Tom Brunner tdbrunner524@aol.com
Cindy Diem 716-863-4452
Debi Baker Feary 716-830-0386 debifeary@roadrunner.com
Cathy West Lefko 716-491-8278 catherinelefko@yahoo.com
Lori Rohloff 716-481-6325 loriateacher@yahoo.com
Sue Hens Smith 716-440-3438 soozeeq@verizon.net
Terri Rahill Wincott twincott@roadrunner.com
---

40th Reunion events will be scheduled July 25 through July 28.
Our highlight event will be on Saturday July 27th: Dinner at the popular Big Ditch Brewing Company, downtown Buffalo.
TICKET SALES EXTENDED UNTIL JULY 1st!! ACT NOW!!
You can download full reunion details in a PDF file by clicking here--->

See Hotel Options in this PDF by clicking here--->

Your ACHS 40th Reunion Committee
---

Saturday evening, come join your classmates at the brand new Thin Man Brewery space in Buffalo! Hors d'oeuvres will be served throughout the evening (Assorted cheeses, charcuterie, seasonal fruit, crudites with dips, 'Barrel & Brine' pickles, and fresh baked pretzels with beer cheese and other dips) as well as beer, wine and soda. Coffee and tea will also be available. In addition there will be a taco bar for something a bit more substantial.
Don't worry – for those not quite into the craft beer scene there will be the obligatory Labatt Blue. This is an adults only event but please feel free to bring your spouse, partner or significant other!
Location: Thin Man Brewery – 166 Chandler Street in Buffalo
Date: Saturday, July 20th
Time: 6PM-9PM
Cost: $45/person *Please submit payment no later than May 1, 2019 so we can finalize numbers – the earlier the better. The deposit on the space is non-refundable. Tell your friends and classmates you are still in touch with, especially those not on Facebook. You can copy/paste this information or the link below. It has all the information plus hotel info for out of town folks and recommendations for Friday night and Saturday afternoon.
Payment Options:
Venmo @ Jen-Hardy-4
Paypal – gabemau@yahoo.com or 7169031089 or paypal.me/achsreunionclassof94
Good old fashioned checks are also accepted – please make them out to Jen Hardy and mail to 138 Woodridge Avenue, Buffalo NY 14225
Apple Pay @7169031089 (*apple charges a fee to you to do this)
https://achsclassof94.wordpress.com/
---

Class of 1999 20th Reunion will be held on Saturday, August 24 from 6-9pm at Resurgence Brewing Co., 1250 Niagara Street, Buffalo, 14213.
Spouses and significant others welcome! However, this is an *ADULTS ONLY* event.
Tickets are PRE-SALE ONLY. There are two types of tickets available (both include pizza, bar snacks, and desserts):
1) Open Bar Ticket: three hours of beer, wine, hard cider and sangria. Total cost is $45pp.
2) Designated Driver Ticket: three hours of non-alcoholic beverages. Total cost is $20pp.
~~TICKET PURCHASE INSTRUCTIONS~~
Please read carefully!
Payments are non-refundable and must be received by July 31. Once payment has cleared, you will be mailed wristband(s) that will need to be worn for admission to the event. Please remember to bring these with you!! They are the "receipt" for your payment. If you have not received your wristband(s) within two weeks after making payment, please contact Jen Pincoski via Facebook or JLPincoski@gmail.com.
You may pay via check, PayPal (Friends & Family), or Venmo.
PayPal payments can be sent to JLPincoski@gmail.com
Venmo payments can be sent to @Jennifer-Pincoski
Checks can be mailed to:
Brian Loretz
601 Adams Street
Herndon, VA 20170
*When making your payment, please include the following information:
-Your current name (and former name, if applicable)
-Number of adult guests
-Address where wristband(s) should be mailed
-Cell phone number (will ONLY be used in the event of a last-minute change or cancellation)
*With PayPal, use the "Add a Note" feature; on Venmo use the "What's It For?" feature.
~~This information can also be found on our Facebook page: Amherst Central High School Class of 1999~~
---

The Class of 2009 invites you and a guest to join us at our 10 Year Reunion held at 12 Gates Brewing Company! The event will include appetizers and three hours of open bar. Please help spread the word to our classmates! If you're on Facebook, please message Chelsea Fanara (Chelsea Anne), Amanda Kapus, or Emily Wilhelm to be added to the event invitation. If you're not on Facebook, please RSVP using the link below so we can get your email address for updates.
Date: Saturday June 22, 2019
Time: 6:00 PM to 9:00 PM
Location: 12 Gates Brewing Company - 80 Earhart Dr., Williamsville, New York 14221
Tickets:
Full Ticket - $40.00 (inclusive of tax): Includes three hours open bar (wine, beer, water, soft drinks) and appetizers.
Designated Driver - $20.00 (inclusive of tax): Includes three hours of unlimited water, soft drinks, and appetizers.
Payment: Submit payment to Emily Wilhelm via Venmo (Emilywi) or Paypal (Paypal.me/emilyawilhelm) by June 8. No refunds will be issued after June 15. Tickets at the door are subject to a $5 up-charge.
Please RSVP by June 8 so we can have a head count for food RSVP here: https://goo.gl/forms/poTzH4BZUn8iVDEF2
Questions? Contact us at amherst2009.reunion@gmail.com
---