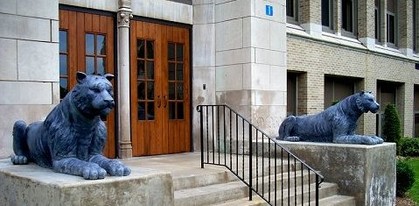 In the wake of celebration and sentiment that followed the close of World War II, returning veterans conceived the idea of a homecoming event to renew friendships. A dance was held downtown at Christmas time and another at a country club the following spring. To keep the idea going, officers were elected and a newsletter was published. A series of holiday dances were held for a number of years with the proceeds committed to an annual Paul M. King Memorial Award. The award, honoring the first head of the music department, is given to an outstanding music student each year.

Philip A. Schweickhard, principal of Amherst Central High School from its founding in 1930, laid the groundwork "to keep the Amherst family together" when, in 1954, he appointed Arthur E. ("Doc") Pankow to co-ordinate Alumni Relations. The semi-annual "Report to the Alumni" was first published by the high school that year.
In 1955 an all-class reunion sponsored by the Alumni Relations office brought enthusiastic alumni from far and wide to celebrate the 25th Anniversary of the school, beginning the tradition of anniversary celebrations and all-class reunions at five year intervals ever since.
In the emotional wake of the 45th Anniversary celebration, a "Loyalty Fund" was established by former students and faculty. When it became apparent that an expanded structure was needed to perpetuate the spirit and quality unique to Amherst, the Amherst Central Alumni Foundation was conceived and incorporated in June, 1983.
The Foundation has taken responsibility for all the record keeping and services formerly provided by the school and alumni office including the five year all-class reunions, anniversary celebrations, publishing newsletters and keeping up mailing lists.
The Foundation has assumed the administration and support of three traditional awards that have been made to outstanding seniors. Paul M. King Memorial Award, Mildred Faulke Meese Writing Award and the School Spirit Award.
The Board of Directors of the Foundation is committed to the design and implementation of activities that provide experiences for students rather than the proliferation of medals and plaques. The Foundation funds experiences for students emphasizing projects that extend their horizons or involve helping others. The Foundation also funds mini-grants for teachers for special projects or equipment not otherwise funded by the school district.
The Foundation needs the continuing support of alumni in building its endowment fund, only the investment earnings of which are expended to support these special projects. We thank you for your past and continued financial commitment.
---