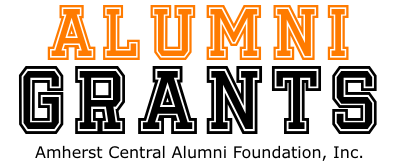 ---
The Alumni Foundation wishes to remind you that there are grants available for teachers/staff through the Amherst Central Alumni Foundation Grant Committee.

These grants are supported by the generosity of our alumni.

The Grant Committee strives to award grants that benefit the most students in the Amherst Schools.

Each grant application is carefully reviewed. The Grant Committee then presents the grant and makes a recommendation to the Foundation Board of Directors for a vote. The Foundation meets on the third Thursday of every month.

If you are interested in applying for a grant, please complete grant application below and include a letter detailing your grant request.

The deadline for grants for the 2022-2023 fiscal year are November 1, 2023 and March 1, 2024. Grants may be submitted to the Amherst Alumni Office located in the high school by interoffice mail, regular mail, or email to alumni@amherstschools.org.
Please note that the process for awarding grants takes approximately two months:
Grant Committee meets and reviews grants received.
Grant Committee presents recommendations at the next Amherst Alumni Board Meeting.
Alumni Foundation notifies District Office of Grants to be awarded.
Grants are then presented to Board of Education at their next meeting for approval.
Money is sent from Alumni Foundation to the District Office and deposited in an account for teachers to access using a budget code.
Please keep this process in mind especially if you have a time sensitive grant request.
There is also a link at bottom of the page that gives a snapshot of grants the Alumni Foundation has awarded since 2003.
If you should have any questions, please do not hesitate to contact me.

Sincerely,

Susan Hens Smith '74
Chair, Grant Committee
alumni@amherstschools.org
__________________
Other Committee Members...
Nancy Graves Manalio '70
Emily Warren Zimmer '06
Ginna Coon '60
Donna Roll '71
Susan Fretz '73
Cindy Diem '74
Laura Bosinski - School Business Administrator - Amherst Central School District
Grant Application
(PDF -415 KB)
---