DISTINGUISHED EDUCATOR EMERITUS AWARD 2004 RECIPIENT: DONALD W. MUNSON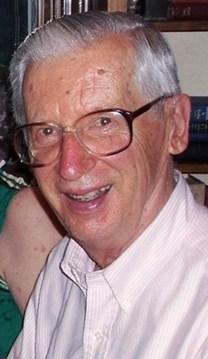 The first recipient was Donald W. Munson, who received this year's crystal tiger award from Susan Fretz '73, Amherst Central Alumni Foundation President, at the Class of 2004 graduation on June 26, 2004. Mr. Munson has been a member of the "Amherst Family" since 1945. He was a graduate of East High School, received his B.S. from Buffalo State Teachers College and continued his education at the University of Buffalo, where he received his Ed. M. in Guidance and Administration. In 1945-1948, Don was hired as a teacher at Amherst. From 1948-1950 he moved into the Guidance Office as a counselor and from 1950-1956 was Director of Guidance. In 1956-1957, Don was Acting Principal. From 1957-1960 he was promoted to Assistant Principal. Don climbed the ladder of success quickly until Feb 1961 when he was appointed Principal, a post he would hold until June of 1980.
Don was and still is an active participant in education. His summers from 1959-65 were spent on many college campuses as a Visiting Professor. Some of these were: St. Lawrence University, Hobart, Alfred and from 1967-1971 Don did consulting work for Plattsburg State University. From 1988-1991, Don was a part time Supervisor for Administrative Interns at Canisius College.
Don's affiliations both past and present are numerous. He was a member of Phi Delta Kappa, the National Association of Secondary School Principals. Don participated on the Pastoral Relations Committee at Central Park Methodist Church, along with being a Merit Badge Counselor for the Boy Scouts. Others include: fund drives for UB, former chairman of Friends of Scouting Fund Drive, teacher and superintendent for his church, critic teacher for teachers at Buffalo State and UB. Don was also Program Chairman for the N.Y.S. Counselors Association among others. Don is presently President of the Amherst Retired Teachers Association.
Don's interest in athletics includes track and cross-country; from 1945-1948, he was part time Track and Cross-Country Coach at Buffalo State. He was also a Head Coach for Amherst High School from 1945-1955.
In 1968 Don was Chairman of the Niagara District, A.A.U. Olympic Fund and for 25 years he was chairman of a cross-country running group for this section of N.Y.S. Don's interest in the A.A.U. stems from his youth. In 1943 he won the National Junior Cross Country Championship. In 1945 Don participated on the A.A.U. All American Cross County Team. For three years Don was Niagara District Cross Country Champ and for one year was the 2 Mile Champ.
Don's first wife Marion Veta Mollnow Munson passed away in 1969. They have four children. Don remarried in 1973 to Ruth Pilgram Osborn Munson. Their son is John Pilgram Osborn, M.D. Don and Ruth reside in the Amherst School District.
Don is remembered for his leadership at Amherst Central High School - to its community, its faculty, and most of all, to its students. One of the things Don is most remembered for are his random and not-so-random acts of kindness. Don continues to be quite active in the education field and serves as an Honorary Director of the Amherst Central Alumni Foundation. The Foundation is pleased to announce the first Distinguished Educator - Donald W. Munson.