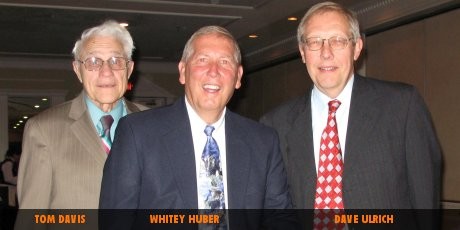 ---
The Amherst Central Alumni Foundation, Inc. recently honored its 2008 Distinguished Educator Emeritus Award winners at a reception on October 23rd at Samuel's Grande Manor.
Janette Atkinson, former chairman of the English department at Amherst High from 1972 – 1976. According to colleagues and former students, Atkinson, who is now deceased, was far more than an advisor; she was a chauffeur, counselor, cook, typist and friend. Although she encouraged independence, she was always ready to assist, serving as a mentor to fellow English teachers. Mrs. Atkinson was also a faculty advisor to the school's award winning newspaper, "The Tatler."
Thomas Davis, former principal of the Harlem Road Elementary School from 1954 - 1976, and longtime member of the Amherst Lion's Club and Amherst Male Glee Club. Among Mr. Davis's proudest accomplishments were his outdoor educational curriculum, and elementary school program which involved students switching classes for different subjects.
Werner "Whitey" Huber, history teacher at the Amherst Middle School and community volunteer in Elma, NY. Mr. Huber taught at Amherst Middle School from 1965 – 1994 and is remembered for his passion for teaching and his strong opinions on issues. Mr. Huber, who has Parkinson's Disease, recently had a walking trail in Elma's Village Green Park named in his honor.
David Ulrich, who taught in Amherst High School's history department from 1969-2007. Mr. Ulrich taught AP level history for 23 years and chaired the history department from 1984-2007 before retiring. Mr. Ulrich also was the President of the Amherst Education Association most recently from 1993-2007. Since retiring, Mr. Ulrich has been travelling, and is currently studying Chinese and Arabic and taking a course in Caribbean Literature. He is also training to be a docent at the art gallery.