Please consider a gift to the Amherst Central Alumni Foundation on Giving Tuesday!
The Amherst Central Alumni Foundation, through generous donations from alumni, provides financial support to programs which enhance the student experience throughout Amherst Central School District. The foundation is an independent 501(c)(3), not-for-profit organization. Our donors help bridge the gap between basic funding and what Amherst students need to truly excel. Because of the Covid-19 pandemic, the foundation had to cancel its biggest annual fundraiser for two years running. Any amount helps.
Since 2003, our grant program has given over $110,000 to the students of the Amherst Central School District,
Please help us maintain our level of giving back to the district and its students.
Please share with your Amherst family and friends!
---
Ways to Give Electronically
You can donate directly through PayPal via link below.
https://www.paypal.com/donate?hosted_button_id=VY8SMBUNPNFS6
You can also donate through Facebook. If you donate via Facebook on Giving Tuesday, they will be matching donations on a first come basis for the first $8M received. Facebook also doesn't charge us a fee for collecting donations through them.

Click here to go to our fundraising page on Facebook--->
https://www.facebook.com/donate/1992150860973249/
---
Mail a Donation
If you prefer to donate through the mail, you can make checks payable and mail to the:
Amherst Central Alumni Foundation, Inc. - 4301 Main Street - Amherst, NY 14226
Below is a link to our donation form if you would like to print and use.
https://www.classcreator.com/000/0/6/3/28360/userfiles/file/donation.pdf
---
Another way to give is through our Dedicate A Seat Program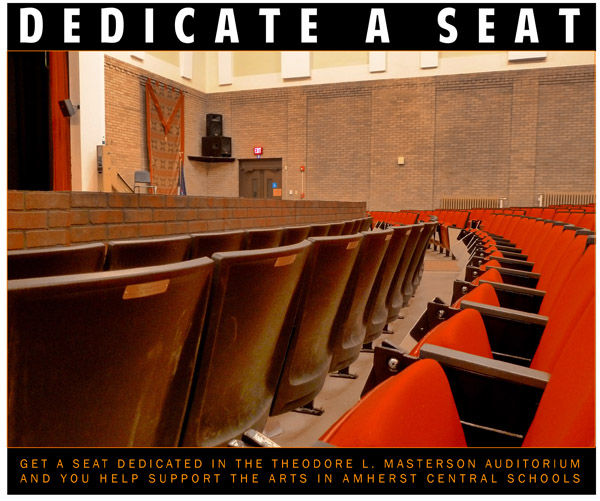 The Amherst Central Alumni Foundation is helping the arts in Amherst Schools by offering seat dedications on the back of seats in the Theodore L. Masterson Auditorium in the high school. Funds raised go directly to programs in the school through our foundation grant program.
Your donation includes an engraved name plate on a seat in the auditorium. You can dedicate a seat to yourself, a family member, loved one, business, etc.
To find out more information and to dedicate your seat, download the form via the link below.
Dedicate a Seat (PDF - .37 MB)