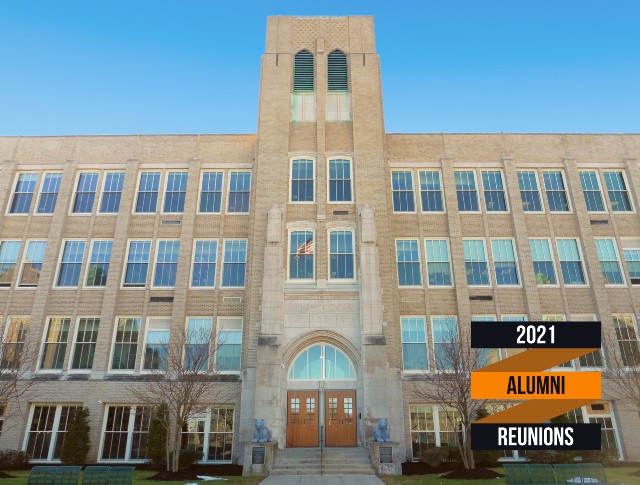 Please contact the Alumni Office with any info you have on reunions for 2021 to post here on the alumni reunion page. We can also provide you with a contact list for your class, print mailing labels and help promote on our social media accounts.
When developing your reunion, please consider keeping the Amherst Central Alumni Foundation, Inc. in mind if your class has funds leftover from your reunion or if your class would like to make a donation to our organization. There are a variety of ways your class can do this.
We are a 501(c)3 nonprofit which has given out in excess of $100,000 in grants throughout the district aimed at helping the students of today.
To get your reunion listed, you can contact the Amherst Alumni Office at (716) 362-8259 or alumni@amherstschools.org. We are glad to help out in any way we can. The Alumni Office is located in Room 124 of Amherst Central High School.
---
Reunions for 2021
---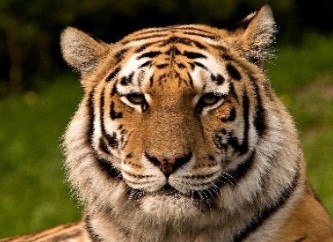 Amherst Central High School Class of 1971 - 50th Reunion
Hi Classmates,
Our 50th is right around the corner (YIKES) and we are very excited that we are going to be able to have our big event. We have all been feeling a bit cooped up and are ready to step out . . . so, . . . here's the scoop.
Date – Saturday, July 31, 2021 Time - 6:00 to 11:00 PM
Location – Buffalo Iron Works, a restaurant/event hall in the Cobblestone district (near the Inner Harbor) at 49 Illinois St., Buffalo, NY 14203. Check it out on Facebook at https://www.facebook.com/IronWorksBuffalo/. You can google the address for directions and parking is over one block to the east. Below is hotel information. We are suggesting two Marriott hotels just around the corner from the venue and easy walking distance to the Inner Harbor, Canalside, the Naval Museum, and other fun attractions.
Attire – Casual
Cost – Cost for the event will be $85.00 per person. We are using corporate sponsorships to keep the cost down. If you are interested in sponsoring the event, please get in touch with Peter Hunt at Peter.hunt@huntrealestate.com.
Payment – Debbie Anderson will be acting as Treasurer for the event. Payment is due by July 1st, 2021. You have two options for payment. You can pay via Venmo to "@Deborah-Anderson-213" or you can send a check payable to "Deborah Anderson/ACHS" and mail it to:
Deborah Anderson
133 Walnut Street
East Aurora, NY 14052
Debbie's email is dlawhalen@gmail.com. When you Venmo or send the check please let Debbie know your name, how many guests you will have and your guest(s) name(s).
Entertainment – We will be streaming music from the 50's. 60's and 70's. Since the music jam was such a success last reunion, we are also going to set up the stage for music. We will have a PA system, some instruments, microphones, etc. If you play or sing and would be interested in jamming, please email Dave Brody at dbrody5888@outlook.com.
Videos and Pictures – Please send us information about what you have been up to. Video's, pictures, letters about your interests, your families, what you have been doing and what you are currently doing.
We have set up a link so that you can send the information to us. Open your browser on your computer or phone and type "memfox.io" in the browser. It will take you to Memory Fox site and ask you for a code. Type "AMHERST" and "continue" and a page will open. You will see some questions we made up to get you thinking. At the bottom of the page are options to make a video, upload pictures, etc. Have fun with it! Be crazy! If you have any trouble or need help, email Sue Miano at rbsue1026@aol.com. Your contributions will become a slide show that we will run during the reunion.
Finding our Friends – We have been provided by the Alumni Office with an excel doc containing the information that they have regarding the whereabouts of our class members. This is information that the classmate him or herself put into the system by signing up for the Alumni Website. Below is a list of classmates for whom we don't have information. If you know how to reach any of the people on that list, please contact them and ask them to email Mike DeWein at dewein53@gmail.com. Mike will add them to the list and forward current information to them.
View list by clicking here (pdf)--->
Covid – New York State is loosening up a bit. While we can't predict the future, if vaccinations continue to be given at the current rate, anyone who wants to be vaccinated should be able to do so by the beginning of July. The rules have just been changed and we are reviewing them but it looks like, if you are vaccinated, there won't be a problem. If you have not been vaccinated, you will have to wear a mask and remain socially distant. We will be talking more about this with the management at the Iron Works and we will post updates.
We hope this email finds you happy and healthy and looking forward to our reunion. More to come as the details unwind. Again, please check the list below and help us to find your classmates. The more the merrier!!
Your friends on the Reunion Committee
Sue Miano
Donna Roll
Craig Anthony
Deb Anderson
Peter Hunt
Mike DeWein
Dave Brody
Hotel Information
Click here to view hotel information--->
---

Saturday, August 7, 2021 - 4:00 pm
Flying Bison Brewery
840 Seneca Street in Larkinville
For more info: susanlojacono@yahoo.com or 716.603.2424
---

The announcement you have been waiting for!
Hosts Mark and Jeannine Slater invite us to join them at 2PM under their tent on Saturday, August 21st for a FREE informal outdoor 40th Class Reunion at the Placid Harbor Marina! *Adults only/Rain or shine*
Alumni friends of our class are also most welcome to join us.
The Shores Waterfront Restaurant will be available to you, or you can plan to bring your own refreshments.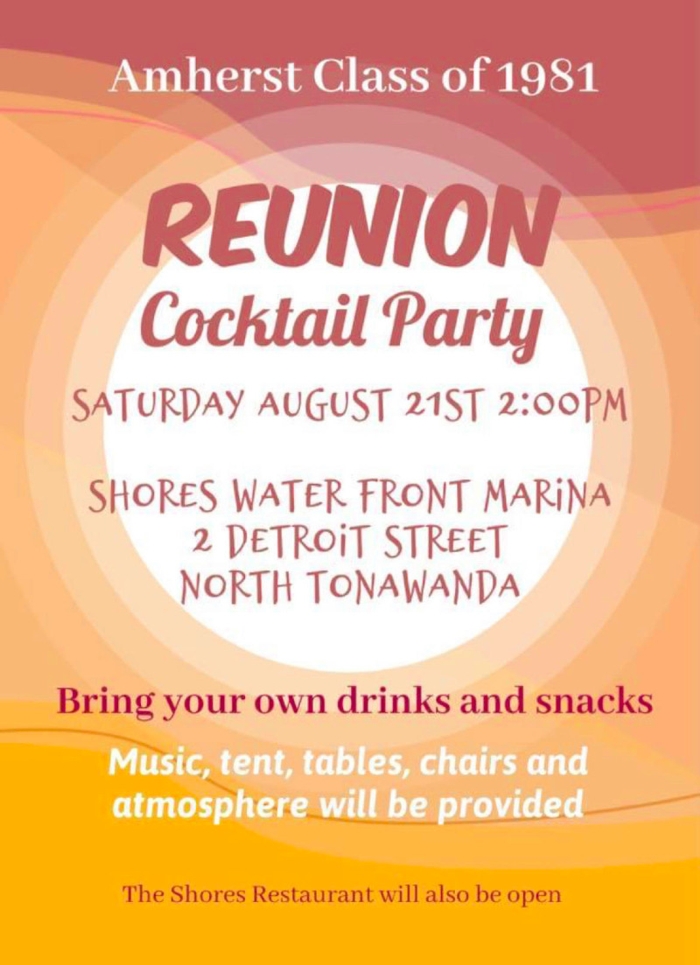 UPDATE: There will also be a meet up at Brunners on Friday, August 20.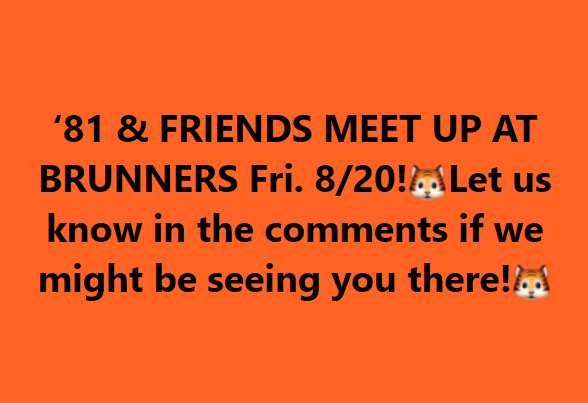 In order to be included on the list for admission, please use the link below to find the Event posted on Facebook. (The event can also be found posted in the general Amherst Alumni FB group.) Select GOING under "Response" and a number count in the comments (only necessary if greater than a party of one). Although this event is free of charge, an accurate headcount is very important for the restaurant and for set up.
RSVP in event posted on our FB page and Alumni Foundation page.
To stay updated on all of our class news and information, like our facebook page:
https://www.facebook.com/amherstcentralclassof81/?ref=page_internal
or join our private group:
https://www.facebook.com/groups/816279715568003/
---

A Message from the Class of 1995 & Class of 1996:
The ACHS classes of 1995 & 1996 are excited to announce our COMBINED 25th Reunion! Please join us on Friday, November 26, 2021 at 7:00 PM (Thanksgiving weekend) at the Reikart Ballroom at Jazzboline.
For details, tickets, and hotel options, please visit the official Eventbrite page here:
https://bit.ly/31PzmQT
To stay up-to-date with the latest news:
Follow Class of 1995's Facebook page here:
https://www.facebook.com/ACHS1995
Join the Class of 1996's Facebook Group page here:
https://www.facebook.com/groups/502310736782630/?ref=share
GO TIGERS!
---