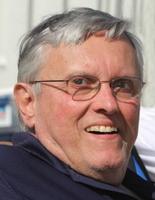 Roger Edward Wilhelm passed away in Rochester on October 3, 2021 at the age of 84.

Roger Edward Wilhelm passed away in Rochester on October 3, 2021 at the age of 84
A Buffalo native, Roger was educated at Northwestern University, the University of California at Berkeley, and at Stanford University where he received his doctoral degree in music. He taught at Kendall College, at the University of North Dakota, and at the University of Rochester's River Campus and the UR's Eastman School of Music.

Roger touched the lives of many in the Rochester arts community serving as Director of the Sanctuary Choir at Asbury First United Methodist Church for nearly 30 years, Music Director of the Rochester Oratorio Society for 20 years, and Music Director of Madrigalia for 15 years. He was named Musician of the Year in 1996 by the Rochester Alumni Chapter of Mu Phi Epsilon and received a Lifetime Achievement Award from the Arts & Cultural Council of Greater Rochester in 2008.

In addition to his musical scholarship and talent, Roger will be remembered for his kind and gentle manner. He had the ability to work with large and small choruses composed of many different personalities, melding their collective voices to achieve musical excellence. He knew everyone by name and knew something about each singer, worrying about them if they were facing difficult times, and celebrating joyful life moments with them. Roger's kind won't be seen again.

Roger is survived by his loving wife of 17 years, Beth; son, Kenneth; brother, Donald; niece and nephew, Kim and Bruce; grandchildren, Emma and Bryan; and his loving pup, Cubbie (named after his beloved Chicago Cubs).

Burial will be private at the convenience of the family. In lieu of flowers, any memorial gifts may be made to the Greater Rochester Choral Consortium (choral-rochester.org), so that all choruses may benefit from your generosity.

There will be a Festival of Remembrance in the spring, in which choruses will be invited to participate and perform. We all know Roger would want to avoid any additional planning during preparation of holiday music, so details and planning will begin after the first of the year.
https://www.anthonychapels.com/obituaries/Roger-Edward-Wilhelm?obId=22573879#/obituaryInfo