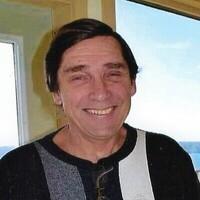 ASHVILLE- Gordon D. Cox, 66, of Ashville passed away on Wednesday, April 27, 2022, in Amherst, NY following an extended illness.
He was born August 13, 1955, in Amherst, NY the son of the late Gordon W. and Mary Jane Nagel Cox.
Gordon was a 1973 graduate of Amherst High School and then attended Morrisville State College where he earned an Associate's in Applied Science Wood Utilization Technology. He had worked for many years as a Plant Engineer for the Mayville Division of Ethan Allen, as well as for Bradford Forest Products in Bradford, PA and for J. Gibson McIlvian in White Marsh, MD.
He belonged to the Lakewood Rod and Gun Club and was a past Kiwanis member. He enjoyed woodworking, fishing, boating, camping, and hunting with his friends, his daughter Tracey and grandson Charlie. Most of all he loved being with his family.
Gordon is survived by his loving wife, Pamela Briggs Cox, who he married April 3, 1993 in Sherman, NY, his six daughters; Christina (Darrell) Riley of Erie, PA, Danielle (Gabriel) Rosage of Dewy Rose, GA, Tracey Curtis, of Ripley, NY, Linda (Dan) Morton of Mayville, NY, Michele Shields of Westfield, NY, and Kristen (Brice) Little of Dewittville, NY, eighteen grandchildren, and three sisters; Cheryl (Charlie) Hall of Amherst, NY, Nancy (Bill Clough) Cox of Chautauqua, NY, Michelle (Greg) Reggie of Lancaster, NY and many nieces and nephews.
He was preceded in death by his parents and grandparents.
The funeral will be held at 6PM on Friday, May 13, 2022, at the Freay Funeral Home in Mayville (139 S. Erie St). The Rev. John Bowen will officiate. Visitation will be from 3PM until the start of the service at 6PM, also at the funeral home.
In lieu of flowers, donations can be made to the Lakeshore Humane Society, 431 E Chestnut Street Dunkirk NY 14048, or Boy Scout Troup 126, 4615 Chautauqua-Stedman Rd. Mayville, NY 14757.
To leave a remembrance or to post condolences to the family, please visit freayfuneralhome.com
https://www.legacy.com/funeral-homes/obituaries/name/gordon-cox-obituary?pid=201916238&v=batesville&view=guestbook