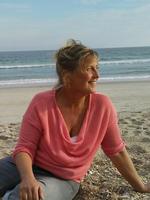 Gayle L. Gebhard McCormick, 63, passed away on Tuesday, August 25, 2020 . Daughter of the late Joyce and William Hagstotz, and the late Raymond Gebhard, Gayle was born in Buffalo, New York on March 24th, 1957. She graduated from Amherst Central High School in 1975, and from Bryant & Stratton College in 1985, with a degree in computer programming. For many years she worked at Pennridge School in a Pennsylvania district as a teacher's aide/in-school suspension teacher. In recent years, she was semi-retired, where she worked part-time at a grocery store in Wilmington, NC. She attended St. Andrews – Convenant Presbyterian Church in Wilmington, where she was loved by her church family. On her off days and downtime, Gayle enjoyed going to the beach, playing the piano, singing, reading, and piecing together puzzles.
Gayle is survived by her three children, Ian (Kim), Colin and Hannah; granddaughter Kaia; brother Glenn (Gayle) and sister Amy (Dan).
Due to Covid-19 restrictions, a memorial service will be held at a later date.
Arrangements are in the care of Coastal Cremations, 6 Jacksonville Street, Wilmington, NC 28403.
https://coastalcremationsnc.com/obituaries/gayle-l-gebhard-mccormick/