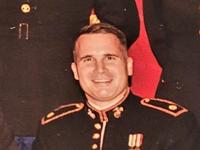 Devoted husband and grandfather, Michael "Mike" Kibler, left this world too suddenly and too soon on January 22nd, 2022 after a short illness. He was 60 years old.
Hailing from Florida, Mike made the world his home. A Marine Corps veteran with over twenty years of service, Mike served as an aviation command and control officer in duty stations across the United States and abroad, including postings in Okinawa, Japan and in Bahrain during Operation Iraqi Freedom. After retiring from the Marine Corps, Mike settled in Spotsylvania, Virginia, and continued to serve Marines first as a businessman supporting Marine Corps force design and later as a federal employee in capability development and integration. Mike recently retired from federal service.
Mike was an adoring animal lover and the adoptive father to over a dozen four-footed furry family members. He was an expert modeler who created meticulously detailed historical dioramas. Mike recently mastered the art of gunsmithing and planned to continue his newfound pastime in retirement. Even with this broad range of interests, Mike's greatest passion was unquestionably to his family.
Mike is survived by his bride, Mikyon Kibler of Fredericksburg; brother Karl Kibler of South Carolina; step-sons Joshua and Daniel Harper of Fredericksburg; and step-grandchildren Connor, Ben, and Aubrey Harper.
Mike will be interred at Quantico National Cemetery in the Spring. Mike's friends and colleagues are invited to participate in a remembrance gathering to be held on February 3rd from 2-5 p.m. at Paddy's Public House, 9 Center Street, Stafford, Virginia.
In lieu of flowers, please make donations in Mike's name to your local SPCA or animal shelter.
Online condolences and memories can be sent to https://www.dignitymemorial.com/obituaries/fredericksburg-va/michael-kibler-10545144.
https://www.dignitymemorial.com/obituaries/fredericksburg-va/michael-kibler-10545144.