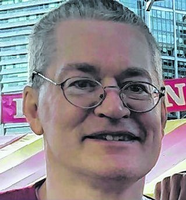 GRABENSTATTER - Bruce W.
Passed July 6, 2022, at age 57. Bruce was filled with laughter and mischief; he was intelligent and accomplished. A UB graduate and an award-winning top Sales Representative for FTD. Bruce was a good man whose life was not easy. Wonderful son of Bonnie Peterson Grabenstatter and the late Charles Grabenstatter; beloved brother of Susan Grabenstatter, Richard (Lori) Grabenstatter, Marcia Grabenstatter Pacciotti (Rick Folger) and Dr. David (Gina) Grabenstatter; brother-in-law of Jim Pacciotti (Beth Zubin); dear uncle of Jessica and Amanda Pacciotti, JC and David Grabenstatter, Sean Webb, Talia and Dean Grabenstatter. Family and friends are invited to attend a Celebration of Bruce's Life Friday, July 15th, 4 PM at Jazzboline Restaurant, 5010 Main St., Amherst, NY. Visitation following service until 8 PM. In lieu of flowers, memorials may be made to the Buffalo City Mission, 100 E. Tupper St., Buffalo, NY 14203 or Transitional Services Inc., 389 Elmwood Ave., Buffalo, NY 14222. Online condolences to: www.denglerrobertspernafuneral.com

Published by Buffalo News on Jul. 10, 2022.