The 90th (+2!) ALL CLASS REUNION is just around the corner! The weekend will be action packed with Amherst Tiger fun. Take a look at the schedule of events below.
---
Can't attend? Consider making a donation. Your support directly strengthens, endorses and supports our mission to provide a superior educational and student experience in the Amherst Central School District. (Read all about the grants we have awarded since 2003 here!)
---
THURSDAY, JULY 28, 2022
Annual Golf Classic at Glen Oak Golf Course
11 Smith Road, East Amherst, NY 14051
Registration: 10:00am
Lunch: 11:00am
Shotgun Start: 12Noon
Dinner: 5:00pm
$175 includes 18 holes of golf, raffles, prizes, beer, wine and dinner
Not a golfer? Join us for dinner! $50 includes raffles & auctions, beer, wine + dinner!
REGISTRATION: CLOSED
---
FRIDAY, JULY 29, 2022
Back-to-School Event at Amherst Central High School!
4301 Main Street, Amherst, NY 14226
1:30pm - 3:00pm
Walking Tour of Snyder, NY
Meet Snyder historian, Julianna Woite, at the ACHS flag pole at 1:30pm for a walk through history. Compare the Snyder landscape of yesteryear to the present and learn about the people and places that made Snyder what it is today! Julianna is a prolific writer, both fiction and non-fiction, about all things Snyder, Buffalo, and beyond. Click here to purchase her books and to learn more!
3:00pm - 7:00pm
Back-to-School
Open to the entire Amherst Central Schools community, this family-friendly event will feature tours of the newly renovated high school, Daily Bread & Sweet Melody's food trucks, music by Dave-N-Cyn of Busted Stuff, activities, and more!
Also at the event, the Alumni Foundation will be displaying a large collection of Amherst High School memorabilia and archives that will be available for FREE (but donations are appreciated!). There will be other items available for purchase, too (lost your yearbook? we probably have a copy!).
(Please note: the previously planned antique car show has been canceled. We hope to bring it back in the future!)
TICKETS: FREE, but please RSVP
https://www.eventbrite.com/e/293836160867
7:00pm
Class Get Togethers
Each ACHS Class can use this time to connect at a venue of choice. For a full list of class reunions in 2022, please visit the Reunions page of the Alumni Foundation website!

---
SATURDAY, JULY 30, 2022
10:00am – 1:00pm
"Best of Buffalo" Double Decker Bus Tour
We will meet at Amherst Central High School and take a 3-hour historic, educational and humorous guided bus tour through downtown Buffalo which will include stops at ACHS Alumni owned Winkler & Samuels and Buffalo Brewing Company.
About the "Best of Buffalo" Tour:
Your guide is Officer O'Connor, an Irish cop from 1860 who brings to life all the hidden stories of the Queen City. Once aboard the bus, we'll explore:
How Buffalo Got its Name
Plight of the Irish Grain Scoopers
Pirates and Portuguese Fisherman of Buffalo's Secret Beach Community
How Booze and a Buffalo Dentist Helped Create the Electric Chair
The Triple Hanging at City Hall
The Naval Park and America's Most Famous Photo
Canalside
Seating is limited. Light snacks & refreshments are included!
Park in Washington lot off Main Street, bus depart from there.
TICKETS: SOLD OUT!
6:00pm – 10:00pm
An Evening of Celebration: Music, Dinner & Drinks at Resurgence Brewing Company
55 Chicago Street, Buffalo, NY 14204
Meet & mingle with your classmates as we celebrate 92 years of Amherst Central High School in a unique setting – a favorite hometown brewery! The event space at Resurgence allows you to experience their state-of-the-art brewing process up close.
The evening will feature music by Russ Burton Entertainment who will be spinning your favorite classics while you enjoy appetizers, food stations, sweet treats, cocktails & conversation long into the night. Share stories as you view a decade-by-decade slideshow of Amherst High School memories and toast to 92 years of orange & black spirit. Go Tigers!
TICKETS: $50 per person (cash bar)
https://www.eventbrite.com/e/293609121787 or Venmo to @susan-fretz
Safe, FREE parking is available in the Resurgence parking lot located directly next to the venue!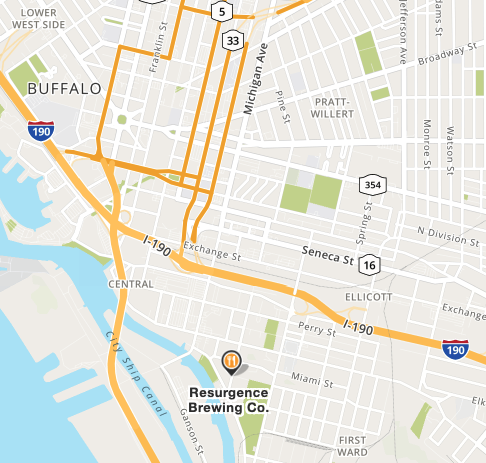 ---
HOTEL ACCOMMODATIONS
Marriott Buffalo LECOM HARBORCENTER
95 Main Street
Buffalo, NY 14203
Phone: 716-855-0049
Room rate $199.00 (plus taxes)
2-night minimum stay
Wednesday, Thursday, Friday and Saturday 7/27 – 7/30, 2022
Methods of Reservation:
Call Marriott Reservations 866-792-9206. Mention the Amherst High School 2022 All Class Reunion
Reservation Cut-off Date: 6/15/22
___________________________
Hampton Inn Williamsville
5455 Main Street
Williamsville, NY 14221
Phone: 716-632-0900
Room rate $139.00 (plus tax)
Wednesday, Thursday, Friday and Saturday 7/27 – 7/30, 2022
Methods of Reservation:
Call hotel direct and mention the Amherst High School 2022 All Class Reunion
Reservation Cut-off Date: 6/27/22
___________________________
The Mosey Buffalo Williamsville
5195 Main Street
Williamsville NY 14221
Phone: 716-276-9600
Room rate $145.00 (plus taxes)
Thursday. Friday, and Saturday 7/27 – 7/30, 2022
Method of Reservation:
Call the hotel direct and mention the Amherst High School 2022 All Class Reunion
Reservation Cut-off Date: 6/28/22
__________________________
Reikart House, Buffalo, A Tribute Portfolio Hotel
(formerly the Lord Amherst Hotel)
5000 Main Street
Amherst, NY 14226
Phone: 716-839-2200
Method of Reservation:
Call the hotel direct
Note: special rates do not apply
__________________________
Buffalo Marriott Niagara
1340 Millersport Highway
Amherst, NY 14221-2902
Phone: 716-689-6900
Room rate $129.00 (plus taxes)
Wednesday, Thursday, Friday, and Saturday 7/27 – 7/30, 2022
Methods of Reservation:
Call direct to hotel reservation line 716-636-4909 and mention Amherst High School Reunion 2022 All Class Reunion
Reservation Cut-off Date: 6/27/22
__________________________
Courtyard by Marriott Buffalo Downtown/Canalside
125 Main Street
Buffalo, NY 14203
Phone: 716-840-9566
Room rate $179.00 (plus taxes)
Wednesday, Thursday, Friday and Saturday 7/27 – 7/30, 2022
Methods of Reservation:
Call hotel direct and mention the Amherst High School 2022 All Class Reunion
Reservation Cut-off Date: 6/27/22
___________________________
Residence Inn By Marriott Buffalo Downtown
620 Delaware Avenue
Buffalo NY 14202
Phone: 716-247-5252
Methods of Reservation:
Call hotel direct and mention the Amherst High School 2022 All Class Reunion
Reservation Cut-off Date: 6/27/22
____________________________
Courtyard Buffalo Airport
4243 Genesee Street
Cheektowaga, NY 14225
Phone: 716-633-2700
Room rate $129.00 (plus taxes)
Wednesday, Thursday, Friday and Saturday 7/27 – 7/30, 2022
Method of Reservation:
Reservation Cut-off Date: 6/27/22
___________________________
Hyatt Place Buffalo Amherst
5020 Main Street
Amherst, NY 14226
Phone: 716-839-4040
Room rate: $149.00 King, $154 Queen (plus taxes)
Thursday, Friday, Saturday 7/28 – 7/30, 2022
Methods of Reservation:
Call hotel direct, or 1-888-HYATT HP (1-888-492-8847)
Our group/corporate number is G-AM90
Reservation Cut-off Date: 6/28/22
With all hotels, please mention "Amherst High School All Class Reunion." If you encounter difficulty with any property regarding making a reservation, please contact Clay Pasternack at 440.655.6180 or claypasternack@gmail.com