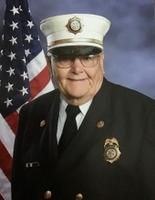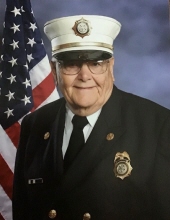 Robert F. Drexelius, Jr.
October 18, 1934 - October 7, 2022
Robert F. "Bob" Drexelius Jr. of Chapin, South Carolina passed away on October 7, 2022 at home. He was born October 18, 1934 in Buffalo, New York to the late Robert F. Drexelius Sr. and the late Barbara (née Hoffreiter) Drexelius. He was preceded in death by his wife of 50 years Betty Jane (Liz) Drexelius, as well as his sister Bernice E. Drexelius and brother John S. Drexelius.
Bob graduated from Amherst High School in 1952 and then attended University of Buffalo. He later joined the Army and served until 1957. When Bob returned from the Army, he met the love of his life. He married Betty Jane "Liz" Braunscheidel on October 11, 1958 at St. Mary's Catholic Church in Swormsville, New York. Bob was most proud of his service to the Snyder Fire Department. He started out being a torch boy in 1949 and over the years moved up the ranks to fire chief. After 34 years Bob headed to South Carolina where he wrote his book, "A Fire Chief's Story".
After retiring, Bob and Liz enjoyed traveling the world, seeing the United States in their motor coach and spending time at their beach condo. Bob also was very involved with his church, Our Lady Of The Lake Catholic Church, where he volunteered for numerous roles over the years. He was always a fixture at daily mass. He is survived by his brother Richard (Ann) Drexelius, sister Barbara (Ron) Yensan, his son Martin (LeAnn) Drexelius his two daughters, Lisa (Cliff) Pollard and Jeannie Drexelius, seven grandchildren and nine great-grandchildren.
A true Buffalo Bills fan to the end, he was always hoping for that Super Bowl win. Go Bills!
A Mass of Christian Burial will be held by the Rev. Dennis B. Willey on Wednesday, October 12, 2022 at 10:00 AM at Our Lady of the Lake Catholic Church, Chapin. A Livestream of the Mass will be made available for those unable to attend. Private interment will be held at St. Peters Catholic Church Cemetery, Columbia, SC. A Vigil and the Rosary will be prayed on Tuesday, October 11, 2022 at 7:00 PM at Our Lady of the Lake Catholic Church, Chapin.
In lieu of flowers donations can be made to Our Lady of The Lake Building Fund, 195 Amicks Ferry Road, Chapin, SC 29036; or The Snyder Fire Department, 4531 Main Street, Snyder, NY 14226.
Whitaker Funeral Home is honored to serve the Drexelius family.
https://www.whitakerfuneralhome.com/obituaries/Robert-F-Drexelius-Jr-?obId=26085480