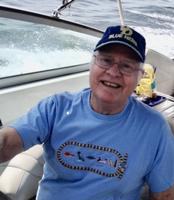 Charles F. Adams
Monday, June 28th, 1937 - Saturday, April 2nd, 2022
Obituary
Charles Francis Adams, III
April 2, 2022
Charles Francis Adams, III (Charlie, Chuck, Red), 84, of Fayetteville, NY, died peacefully at home on April 2nd. He was born June 28, 1937, in Homestead, PA. He graduated from Amherst High School, enlisted in the Navy in 1955, and served for two years in Norfolk, VA. He used the GI Bill to attend college and graduated from the University of Buffalo with a doctorate in Educational Administration in 1968. After graduation he worked in Corning, Buffalo, and Madison County, NY. He moved to Wichita, KS. where he taught future principals and superintendents at Wichita State University as a professor in the educational graduate department. He had a lifelong love of travel and nature, living in a trailer for 10 years and visiting all 50 states, most of Canada, and many national parks.

He joined the local Onondaga AARP Chapter 243, where he served as president, and for many years acted as treasurer. He was generous with his time and energy, giving support to people in need, especially children and wildlife causes.
He is survived by his loving companion, Carol Decker; by his three children, Katherine Adams Karandy, Julie Pregent (Richard) and Charlies F. Adams, IV (Julia); by his five grandchildren, Stephanie Karandy Newvine, Kurt F. Adams, Alicia Pregent Olsen, Kevin R. Pregent and Charles F. Adams V; by his great-grandchild, Lucas Newvine and by his sister, Linda Chalmers of Buffalo, NY. In lieu of flowers, contributions in his honor may be made to Heifer International, and Feeding America. A Memorial Service will be held at St. David's Episcopal Church, 14 Jamar Drive, DeWitt, NY on Wednesday, April 13, 2022 at 2:00 p.m., and a Celebration of Life Gathering will be announced in the near future.
https://memorial.carterfuneralhome.com/charles-adams/4893048/index.php?_ga=2.182487331.406857085.1649426745-1102564830.1649426745