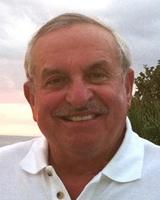 Sept. 13, 1942 – April 11, 2015
David A. Thuman Sr. of Clarence, a retired automotive shop owner, died April 11 in Millard Fillmore Suburban Hospital, Amherst, after a two-month battle from complications from Guillain-Barre syndrome. He was 72.
Born in Buffalo, he graduated from Amherst Central High School in 1959. After graduation, he joined the U.S. Army Reserves, 338th General Hospital in Niagara Falls, and served for six years.
Mr. Thuman was owner and operator of Thuman's Garage, an automotive repair and collision shop located on Jefferson Avenue in Buffalo. His motto for the shop was "we can fix anything but a broken heart." The shop opened by his father, remained a family business for 75 years. He sold the business in 2008. After retirement, he worked in sales for Adesa Syracuse Auction, a car dealer auction specializing in the sales of used automobiles.
An avid golfer, he was a longtime member of Lancaster Country Club and Park Country Club for 35 years. In 1998, he was instrumental in developing golf marshal positions for Master Golf Tournaments at Oakhill Country Club in Rochester, sister club of Park Country Club.
He and his wife, the former Patricia Dotterweich, would have celebrated their 50th wedding anniversary May 1.
Besides his wife, he is survived by a daughter, Christine Kohler; a son, David Jr.; three brothers, Richard, Gerald and William; a sister, Margie Daly; and three grandchildren.
A Mass of Christian Burial will be offered at 10 a.m. Thursday at the University at Buffalo Newman Center, 495 Skinnersville Road, Amherst.